Termite Control in Cape Town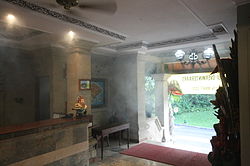 Welcome to Termite Control in Cape Town. Our pest control experts only want what is best for our clients thats why we uses only the best chemicals and equipment that is harmless to you animals and children.
Termite control here in Cape Town is often a huge pain in the neck, at Cape Town Pest control we have the most sophisticated and up to date technology available in Cape Town and South Africa for termite control.

Many homes in and around Cape Town are plagued by timber destroying termites and Cape Town Pest Control is the company in Cape Town to call!

The word termite is a term that describes a species of wood-boring insect that attacks structural timbers of commercial or domestic premises, although it is required by law here in Cape Town to have all structural timber treated so there is no need for future termite control. Soil pre-retreatment is also required by law in some situations. Here in Cape Town termite treatments are of the utmost important to ensure a safe living and work environment. The common termites found here in Cape Town are: Subterranean Termites, Macrotermes spp, Odontotermes spp and Microtermes sp. These termites cause extensive damage flooring and other structural timber which could jeopardise the safety of your home or work place.

Call the Cape Town termite Control specialists now for a quotation for termite control, our Cape Town operators are on standby 24 hours a day to take your call.

News Articles
25/07/2013
Rats and mice out of control in GREATER CAPE TOWN
We all know that rats mice and most rodents are vectors for all k... Read More
30/07/2013
Unseasonal crawling insects
In and around all of Greater Cape Town, crawling insects are caus... Read More
23/07/2014
Cockroaches Everywhere
In recent years we have noticed a steady increase in both German ... Read More
24/02/2015
Wasp Infestation
All of you heard that there is a wasp problem that is circling in... Read More